How to Scale UI in Adobe InDesign
Working on high resolution screens can cause certain issues within applications. One of these issues is that buttons and tools become uncomfortably small to use effectively. A way around this issue is to implement some form of scaling UI (user interface), which is precisely what Adobe InDesign did with version 17.0 released in October 2021 during Adobe MAX.
How to Scale UI
Follow these four steps in order to scale the UI of Adobe InDesign.
Step One: Open InDesign
First things first, open Adobe InDesign if it is not already opened.
Step Two: Open Preferences
Open either Edit > Preferences > User Interface Scaling on Windows or Adobe InDesign > Preferences > User Interface Scaling on a Mac in order to bring up the options.
Step Three: Scale UI
With the dialogue box now open, select whether the UI Sizing should be small or large. An option is also presented to scale the cursor proportionately with the UI sizing. The final option in this box is to set the size of items such as anchor points, handles, and boundary box displays with four options from small to large.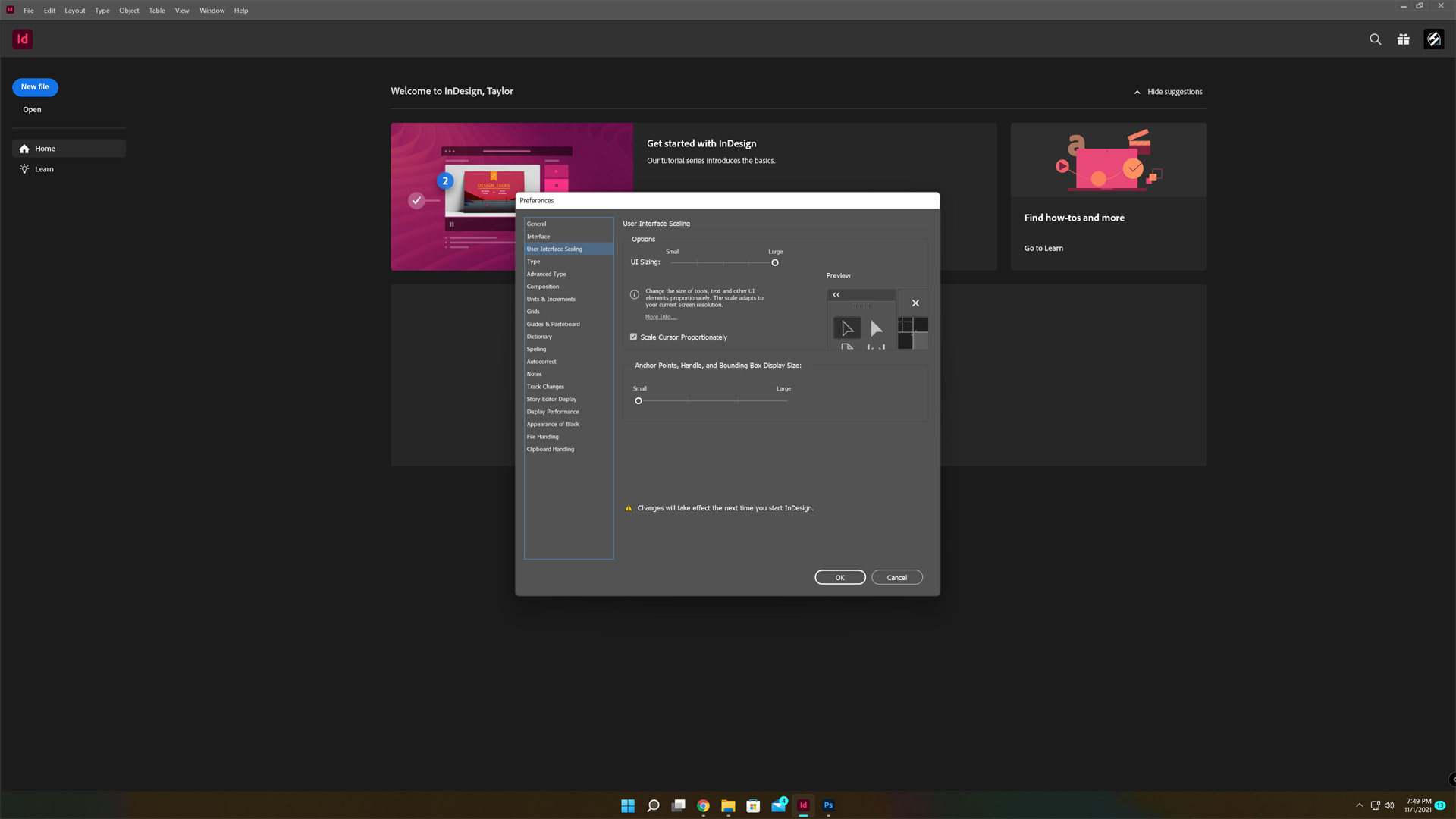 Step Four: Restart InDesign
In order for the UI Sizing change to take effect Adobe InDesign needs to be restarted. Simply close and then upon opening again the UI should be scaled appropriately.
Conclusion
With larger 4K displays becoming more and more commonplace, a feature like this, while not very exciting, is always welcome. Tools could be as much as 50% smaller depending on screen settings within the OS. Scaling UI natively within Adobe InDesign is extremely helpful in those situations and improves the overall UX of the product. I do wish that this update contained a bit more to it however. Other additions to Adobe InDesign include Master Pages changed to Parent Pages and Adobe Capture Integration.