What is Elementor? One of the Most Popular WordPress Builders
Elementor and its various other products are a WordPress centric company designed to provide developers with simple-to-use yet modern tools for building a modern website. A simple to use drag-and-drop visual interface has carried the plugin being one of the most popular and fully featured builders. Relying on a section and column based structure system with the columns dictating the proportion of screen real estate an element takes. Sections do as they say and serve to divide up content. The Elementor software family is composed of two plugins and a theme as well as a bundle including everything plus a hosting environment.
What is Elementor?
Elementor at its core is a free WordPress page builder plugin that uses basic elements similar to those now available in Gutenberg. In the free version the following features are available:
Inner Section

Heading

Image

Text Editor

Video

Button

Divider

Spacer

Google Maps

Icon
With these few features users can build a very comprehensive WordPress site that won't necessarily be flashy, but will get the job done.
Elementor Pro
Elementor also has a premium version of their page builder billed annually. With the pro version of this plugin, Elementor becomes supercharged. These elements are more niche to the average user however provide some pretty powerful features.
Posts

Portfolio

Gallery

Form

Login

Slides

Nav Menu

Animated Headline

Hotspot

Price List

Price Table

Flip Box

Call to Action

Media Carousel

Testimonial Carousel

Reviews

Table of Contents

Countdown

Share Buttons

Blockquote

Facebook Button

Facebook Comments

Facebook Embed

Facebook Page

Template

Lottie

Code Highlight

Video Playlist

PayPal Button

Progress Tracker
Along with extra elements, the pro platform also delivers a full theme builder along with CSS edits and other integrations such as TypeKit and reCAPTCHA amongst other extras. We cover the Theme Builder in a separate article as well as the WooCommerce builder.
Hello Elementor
Another product from the Elementor team is the lightweight WordPress theme. Built as a barebones skeleton structure for the Pro plugin. Hello lets developers create a customized, yet updatable theme that is purpose built for the plugins.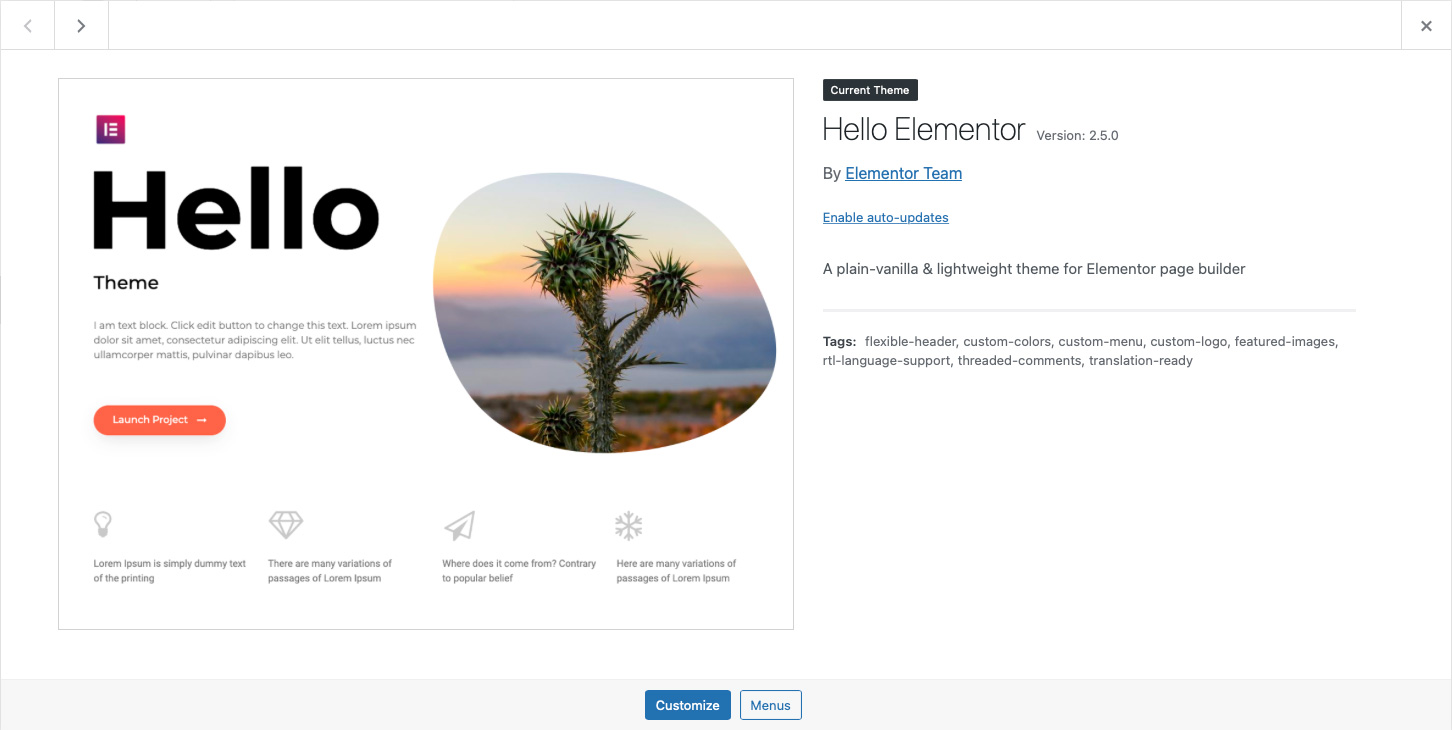 Elementor Cloud
The newest product in the market for Elementor is a full service solution known as Elementor Cloud. Package includes hosting, WordPress installation, along with the pro version of the builder all for $99 a year.
Drawbacks
Elementor as a page builder does have a few drawbacks and may not work for everyone. The builder choice as we discussed in the Choosing a Good Theme article locks in the content to the Elementor platform and restricts migration down the line. Performance isn't inherently great which is why experiments have been done to reduce DOM output and increase performance. These experiments have been beneficial, however are still in beta for the time being.
Conclusion
Elementor is a constantly updating and iterating page builder system. Taking ideas from other builders as well as third party addons to create the ultimate drag and drop editor. Updates are frequent with the most recent going to a new layout format known as Containers instead of the traditional sections. All things considered, Elementor is probably one of the most well rounded builders alongside other popular options such as Avada.