What to Look For in a Good WordPress Theme
Themes on WordPress can be crucial yet fickle beasts. They further lay the groundwork of website creation for plugins to complete. Themes oftentimes can be instrumental however aren't always thought of heavily before work begins. Plugins and design can always be updated, however themes can't always and sometimes age poorly/fail when businesses need them most.
What Does a Good WordPress Theme Have?
A good WordPress theme ticks a few boxes for success. 
Reputation and Popularity
The first is reputation and popularity. Support needs to be worthwhile for the developer in order for the developers of said theme to continue their support. With changes such as PHP 8.x (the coding language behind WordPress) and WordPress 5.9, major breaking changes were made that for some themes required major overhauls in terms of coding and design. This trend looks to continue through WordPress 6.0 as full site editing looks to be coming closer to being out of beta and themes need to be able to support or cope with these changes. PHP 8.0 broke a majority of WordPress sites upon initial release alone, however brought numerous improvements as well.
Modularity
Second on the list is modularity. A theme needs to be modular so that changes are able to be made depending on plugins and design changes. Even if a theme is popular don't pin the design in a corner. Trends come and go as do tastes and it is silly to limit a site to just one look and feel with a pre-built theme.
Compatibility
Third is compatibility. Make sure the theme is compatible with all the features and plugins that will be used not just today but foreseeably into the future (as reasonable as can be of course). An extreme example of this can be seen with a theme such as Avada which does not play nice with any other builder aside from Gutenberg. This means that if a user wants to transfer an Elementor site into Avada they will most likely need to recreate all the content within either Fusion Builder or Gutenberg which can often be no small order. Be cognizant of this when both choosing a builder and theme when creating a WordPress site. We cover this idea further in our article on selecting a page builder. A less extreme example could just be something as simple as a theme not supporting a particular plugin or version of a plugin.
What are the Signs of a Bad WordPress Theme?
Lack of Support
One of the telltale signs of a poor WordPress theme is specialization. While it sounds like a good idea to have a hotel management theme for a hotel management firm it can often lead to poorly aging design and an overall lack of support for the theme. Think about it from a value perspective from the developer's standpoint. Oftentimes these themes are a one time payment so you pay once for something that works today but maybe not tomorrow due to a low ROI on support. How many hotel management firms are going to use that specific theme and what incentive is there to keep the theme running four years later when one can just create a new theme and sell that? 
How Often Should a Theme be Updated?
In general support updates should happen to keep up with new versions of WordPress, of which on average there are two a year. If a theme hasn't been updated over that 6 month period that may hint that support is not constant. This can lead to major issues when WordPress changes items like the theme.json files as they did in 5.8 which caused numerous issues. Also PHP updates can wreak havoc on a WordPress theme generating critical errors that will make the site unusable once errors reach a certain level. This is generally what will kill a WordPress site more than anything else. Hosts often allow for rollback but only for so long due to holes in security and costs.
Bundled Plugins
Another important issue related to support is bundled plugins. Sure the cost savings can be beneficial in the short-term, however those cost savings are only effective as long as the theme is in use. Theoretically this shouldn't be an issue as everything built into the theme should just work natively. However in experience it's been noted that bundled plugins often won't be as up-to-date which can present limits in terms of security and featureset with some notable exceptions as seen in Avada (which is popular/profitable enough to continue to garner development).
WordPress Theme Recommendations
While predicting the future is beyond the scope of this article some themes to feel good about using include the following
Twenty Twenty-Two
The default bundled theme of WordPress 5.9 is Twenty Twenty-Two and most notably is the first theme to support full site editing (FSE). While only in beta FSE allows for complete editing of a site with just Gutenberg. As Gutenberg and FSE continue to advance themes that are FSE compatible should become easily transferable thus alleviating some of these issues revolving around changing themes.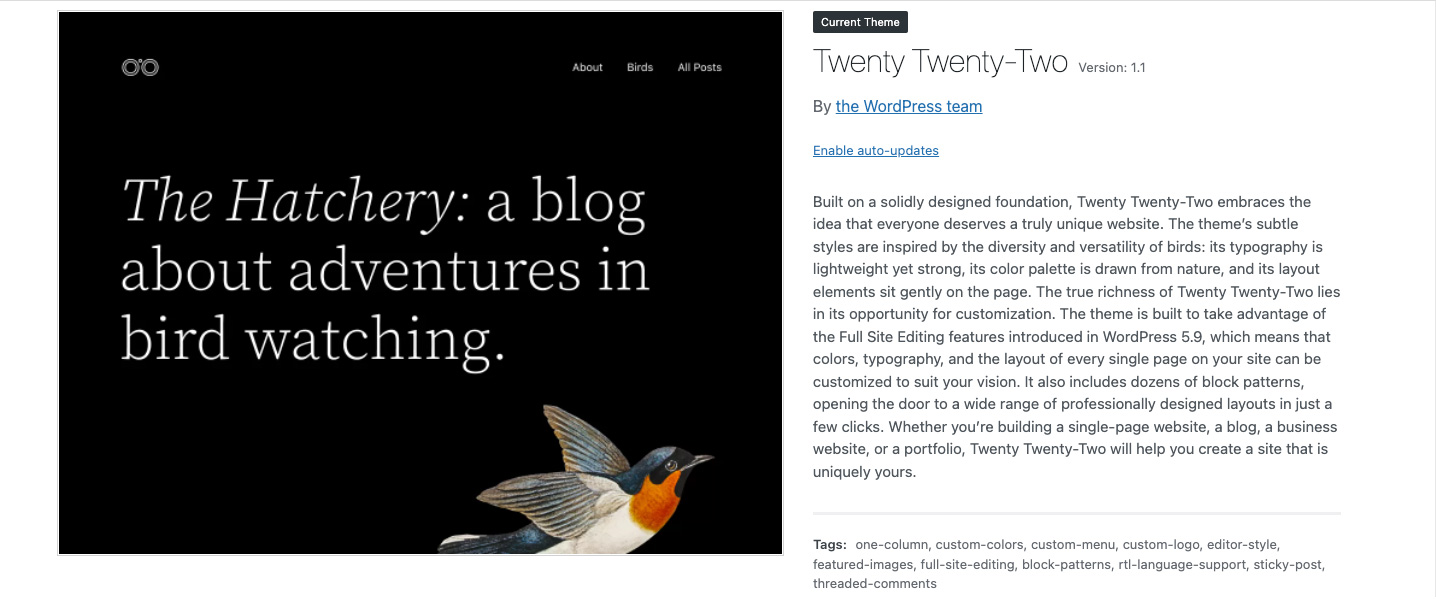 Hello Elementor
The default "blank canvas" theme for anyone using the Elementor builder to create their website. Initially conceived as a barebones structure supported by Elementor Pro's Theme Builder now has implemented some (however limited) features for free users as well. At the current time though other themes seem to add more for the free user.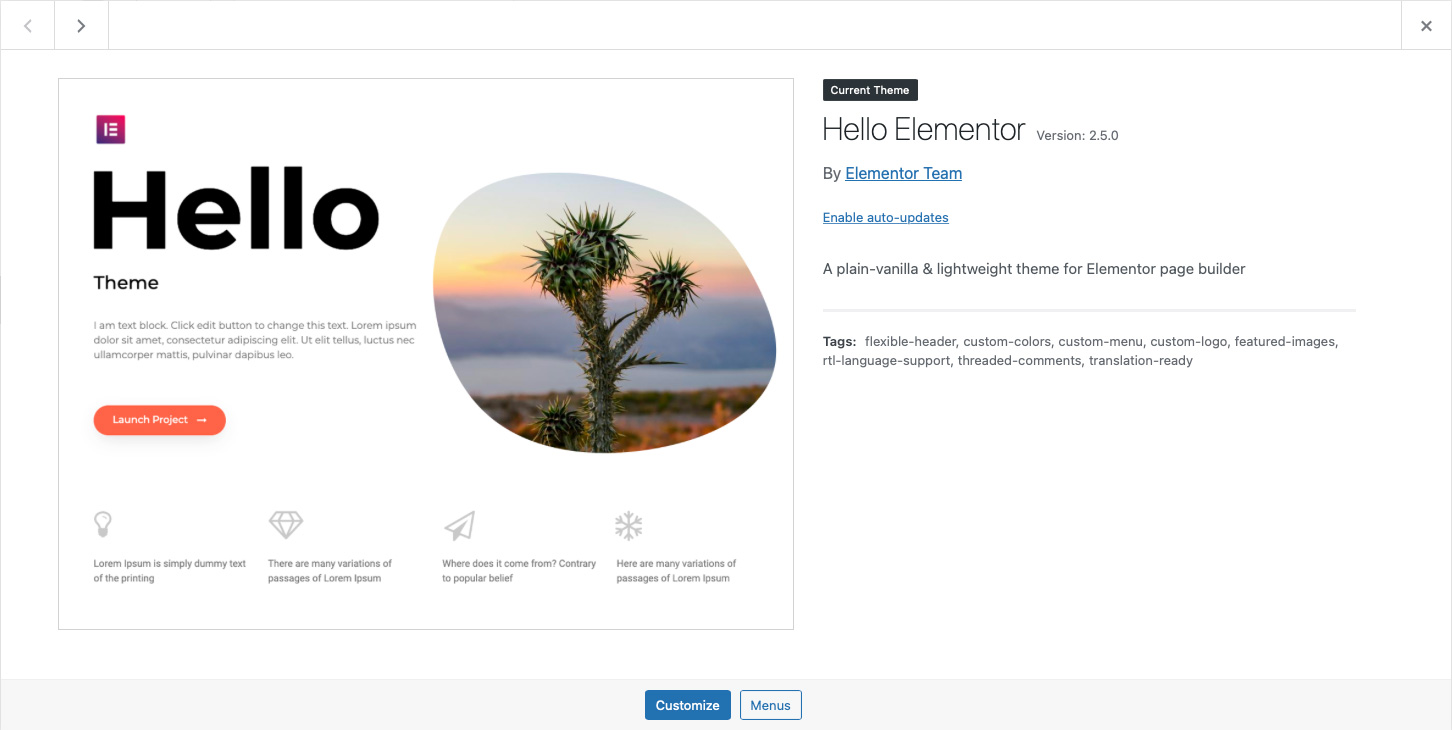 OceanWP
One such free user-friendly theme for Elementor is known as Ocean WP. OceanWP is a free theme that not only supports Elementor but also a wide variety of other plugins including WooCommerce. When working within the confines of a non-existent budget or a lack of experience OceanWP does a lot of the work for the developer.
Astra
Another common free Elementor theme is known as Astra and offers more customization options than that of OceanWP with a lightweight footprint. Astra is similar in nature to that of OceanWP and is built by the team that created BeaverBuilder, an alternative to Elementor.
Avada
While I did list an example above of Avada possibly failing a client's needs that should not discount the idea of the theme altogether. The Avada theme has proven itself as a mainstay in the WordPress community. The fusion builder is comparable to that of Elementor and provides necessary competition in the market. Its one time fee of $60 is comparable to that of the annual plans seen with other builders such as Elementor Pro. A downside of the builder though is that it is more of a walled garden ecosystem than that of Elementor. Think of it akin to the Apple vs Windows debate, they both do the job well just differently. Don't expect to be able to transfer fusion builder content to Elementor or Gutenberg and vice versa.
Conclusion
Oftentimes with one-off themes and themes that have relatively low support we will find that there comes a time when critical errors rear their head and create problems that can only be alleviated with a theme change and/or a full rebuild which can be expensive. That is why it is important to pick a good robust theme that doesn't cause issues later on down the line. If you want to know more about updating a theme or changing a theme we have articles covering both topics. An emerging trend within the WordPress Development community is the use of Gutenberg for posts and page builders for pages which you can read about here. This trend does alleviate some of the headaches associated with a rebuild/theme switch and is worth considering when choosing a WordPress theme.